South Carolina dental school thanks patrons
---
Introducd:Charleston, S.C.鈥擧aving dedicated its new state-of-the-art facility named for alumnus and benefactor James B. Edwards, the Medical University of South Carolina College of Dental Medicine is now recognizing new patro
Charleston, S.C.鈥擧aving dedicated its new state-of-the-art facility named for alumnus and benefactor James B. Edwards, the Medical University of South Carolina College of Dental Medicine is now recognizing new patrons.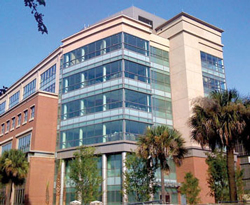 Palmetto pride: The gleaming James B. Edwards College of Dental Medicine Clinical Education Center at MUSC, dedicated Feb. 27, is a 107,000-square-foot facility.
Dr. W. Carter Brown, class of 1982, and his wife Kathryn pledged a $1 million gift to the college that will benefit dental residents preparing for private practice. Planning for the dedication of the W. Carter Brown, DMD, FAGD, & Kathryn D. Brown, BS, RDH, Advanced Education in General Dentistry Clinic is under way.
Dr. Harold Jablon, class of 1971, and his wife Irene donated $1 million to help the school build the state's first facility designed exclusively for dental instruction. The Irene and Harold Jablon Center for Diagnostic Sciences, which MUSC dedicated May 14, will allow patients for the first time to be assessed, diagnosed and staged for treatment all in one location.
The AEGD clinic named for the Browns boasts patient treatment and waiting areas, a treatment and support laboratory, a residency study room and patient consulting rooms. It's a comfortable, beautiful setting for patients prior to and after treatment, said university officials.
"Dr. and Mrs. Brown's foresighted generosity in pledging a gift of $1 million will ensure an even stronger future for advanced education in the field of dentistry," said Dr. John J. Sanders, dean of the College of Dental Medicine.
Of the Jablon Center, Dr. Sanders said: "I am thrilled that through Harold's and Irene's contribution, our college will be able to provide state-of-the-art diagnostic services and equipment for patients."
The Jablon Center will be a resource for private dental practices that cannot afford to house cone beam 3-D dental imaging systems in their smaller settings, Dr. Sanders added.
"We will be happy to be a referral center for those practitioners to provide the latest in radiographic equipment for their patients," he said.
Dr. Brown, a member of the ADA Council on Communications, said his interest in partnering with the dental school grew as he held various offices and leadership positions through the South Carolina Dental Association, which backed MUSC as it sought legislative support and funding for the school.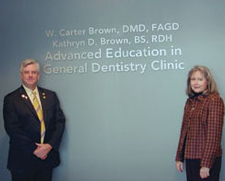 Practice support: Dr. W. Carter Brown and his wife Kathryn proudly display the center that bears their names Feb. 27 during the new building's dedication.
"I know from advocacy work with the SCDA, the ADA and other dental groups that the future will have a different mix of needs and demands," said Dr. Brown. "When the opportunity to help re-launch and expand the AEGD program at MUSC arose, I realized this is one of the vehicles we need to expand everywhere. If we as members of the profession don't step up and support the growth and development of the profession and the students who will ultimately join the profession, how can we expect those outside to provide the support that we need?" said Dr. Brown.
As a member of MUSC's first graduating class, Dr. Jablon said he felt a sense of obligation to give back to the school that had given him so much.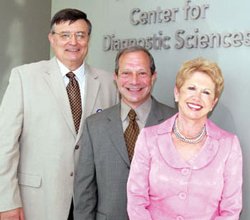 Diagnostic edge: Dr. John J. Sanders (left), South Carolina dean, celebrates the Jablon center dedication May 14 with donors Dr. Harold Jablon and his wife Irene.
"Being part of a new school, my classmates and I felt like pioneers," said Dr. Jablon. "We felt we helped set the standards that came to define our college, and I believe we should still help pave the way today through the development of the school's first dedicated building. Very few realize how little state support the college receives: less than 15 percent," added Dr. Jablon. "It makes you want to do everything you can within your means to help the school."
Prior to the construction of the James B. Edwards College of Dental Medicine Clinical Education Center in 2009, the MUSC College of Dental Medicine was housed in basic science building space. Dr. Edwards, an oral surgeon and MUSC president emeritus, was a former South Carolina governor, state senator and U.S. Secretary of Energy.
TAGS: